AWARENESS FOR PEACE International Online Conference
June 15-21, 2019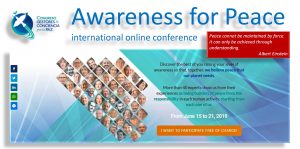 If our planet needs something, then it is Peace, and this Peace can only be built from each of our hearts. In this year 2019 we are committed to work together for Peace on Earth, and we invite you to undertake this journey together that will lead us to discover the best part of ourselves and how to share it to create among all the Peace we need.
You are about to meet more than 40 recognized international experts in the main areas of human activity who will explain how to raise the level of Humanity Awareness through a systemic and integrative vision.
Peace cannot be maintained by force.
It can only be achieved through understanding.
Albert Einstein
REGISTER:
www.gestoresconcienciaporlapaz.com