Müller H. Physics of Irra­tional Num­bers. Progress in Physics, 2022, vol. 18, 103–109
http://www.ptep-online.com/2022/PP-64–02.PDF
Müller H. Physics of Tran­scen­den­tal Num­bers as Form­ing Fac­tor of the Solar Sys­tem. Progress in Physics, 2022, vol. 18, 56–61
http://www.ptep-online.com/2022/PP-63–09.PDF
Мюллер Х. Физика числовых отношений. В сб. Метафизика, 2022, № 2 (44). ISSN 2224–7580, DOI: 10.22363/2224–7580-2022–2‑83–92
Müller H. Physics of Tran­scen­den­tal Num­bers on the Ori­gin of Astro­geo­phys­i­cal Cycles. Progress in Physics, 2021, vol. 17, 225–228
http://www.ptep-online.com/2021/PP-62–16.PDF
Müller H. Physics of Tran­scen­den­tal Num­bers Deter­mines Star Dis­tri­b­u­tion. Progress in Physics, 2021, vol. 17, 164–167.
http://www.ptep-online.com/2021/PP-62–05.PDF
Müller H. Physics of Tran­scen­den­tal Num­bers Meets Grav­i­ta­tion. Progress in Physics, 2021, vol. 17, 83–92
http://www.ptep-online.com/2021/PP-61–11.PDF
---

The Uni­verse Explained
Wel­come to INTERSCALAR, the chan­nel that invites you to study the world with fresh eyes. Vis­it­ing this chan­nel, you will expe­ri­ence that INTERSCALAR makes sci­ence trans­par­ent. You will find new answers to many ques­tions con­cern­ing the nature of the uni­verse and the mean­ing of life. A huge field of research with new aston­ish­ing dis­cov­er­ies awaits you!
---

New book by Hart­mut Müller, free down­load
This book is designed as a quick and easy intro­duc­tion to Inter­scalar Cos­mol­o­gy that is based on the dis­cov­ery of a uni­ver­sal law of prob­a­bly every­thing – Glob­al Scaling.
The dis­cov­ery of Glob­al Scal­ing is the result of an inter­dis­ci­pli­nary research that has inspired the author for more than 35 years.
Glob­al Scal­ing leads to an inter­scalar view of the world that could become the new sci­en­tif­ic par­a­digm. Show­ing the com­plex con­nec­tion of process­es at very dif­fer­ent scales in the uni­verse, Glob­al Scal­ing explains math­e­mat­i­cal­ly how sub­atom­ic and galac­tic scales are direct­ly relat­ed to life as a cos­mic phenomenon.
Glob­al Scal­ing sug­gests that there is noth­ing arti­fi­cial in the uni­verse. All the tech­nol­o­gy devel­oped by human­i­ty and oth­er civ­i­liza­tions fol­lows the same fun­da­men­tal frac­tal of space-time just like every­thing else in the uni­verse. It may well be that Glob­al Scal­ing is the redis­cov­ery of an ancient advanced knowledge.
The read­er of this book will find new answers to many ques­tions con­cern­ing the nature of the uni­verse and the mean­ing of life.
A huge field of research with new aston­ish­ing dis­cov­er­ies awaits us.
---

Con­fer­ence gleaning
Inde­pen­dent sci­en­tists inves­ti­gate the fun­da­men­tal prob­lems of mod­ern physics and dis­cuss alter­na­tive approaches.
Among the speak­ers: Hart­mut Muller, Alexan­der Unz­ick­er, Ray Flem­ing etc.
---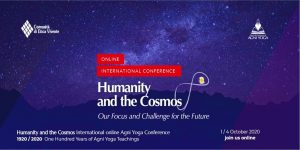 Con­fer­ence gleaning
Over the last sev­en­ty years, with extra­or­di­nary speed, almost all human­i­ty is acquir­ing a plan­e­tary con­scious­ness that was vir­tu­al­ly com­plete­ly lack­ing pre­vi­ous­ly. As human beings, we are under­stood to be the crew of a ves­sel, the plan­et Earth, which trav­els in the space. We under­stand that we have only two choic­es: to coop­er­ate in tak­ing care of the ship and let it remain hos­pitable so that the jour­ney con­tin­ues well; or to drift, destroy­ing one another.
Plan­e­tary con­scious­ness is a huge step for­ward for human­i­ty. Although there are still many peo­ple who pro­fess or pre­tend to ignore it, this step is one of the basic devel­op­ments of our present civ­i­liza­tion. Nobody can shirk it, includ­ing the peo­ple who affirm that the plan­et has the prop­er­ty of self-reg­u­la­tion and regen­er­a­tion and that human­i­ty is not oblig­ed to be respon­si­ble for it.
---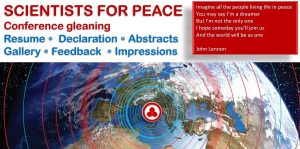 Abstracts, Dec­la­ra­tion, Gallery, Video, free access
The world view has changed many times, and today we are wit­ness­ing a new rev­o­lu­tion in sci­ence, char­ac­ter­ized by the dis­cov­ery of the inter­scalar view of the uni­verse, with life and con­scious­ness as essen­tial prop­er­ties. This devel­op­ment of our world view is very impor­tant for the future of human­i­ty. On Earth, the diver­si­ty of life is our wealth and, in order to remain and devel­op, it needs peace.
How can sci­ence and edu­ca­tion con­tribute to peace?
What are the caus­es of war and how can we avoid them?
Which econ­o­my can work for a peace­ful future of humanity?
How to avoid com­mer­cial­iza­tion of sci­ence and medicine?
What is the role of sci­ence in the progress of social welfare?
Three days of full immer­sion in debate and con­fronta­tion. Sci­en­tists, engi­neers, med­ical doc­tors, econ­o­mists and edu­ca­tors of inter­na­tion­al renown, rec­og­nized for their com­mit­ment for com­mon good, have been invit­ed to give the pos­si­ble answers to essen­tial questions.
Imag­ine all the peo­ple liv­ing life in peace
You may say I'm a dreamer
But I'm not the only one
I hope some day you'll join us
And the world will be as one
John Lennon
---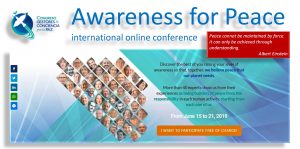 Con­fer­ence gleaning
If our plan­et needs some­thing, then it is Peace, and this Peace can only be built from each of our hearts. In this year 2019 we are com­mit­ted to work togeth­er for Peace on Earth, and we invite you to under­take this jour­ney togeth­er that will lead us to dis­cov­er the best part of our­selves and how to share it to cre­ate among all the Peace we need.
You are about to meet more than 40 rec­og­nized inter­na­tion­al experts in the main areas of human activ­i­ty who will explain how to raise the lev­el of Human­i­ty Aware­ness through a sys­temic and inte­gra­tive vision.
The Online Con­fer­ence took place on June 15 – 21. Pre­sen­ta­tions, video and audio records are still available.
Peace can­not be main­tained by force.
It can only be achieved through understanding.
Albert Ein­stein